Lang åbentid, hurtighærdende, 2-komponent STP montagelim/fugemasse
Sikaflex®-953 L30 er en 2-komponent silan-termineret polymer (STP) montagelim, der hærder ved kemisk reaktion af de to komponenter. L30-versionen er designet til limning af store komponenter, hvor der kræves en længere åbningstid. På grund af sin gode vejrbestandighed og udfyldningsegenskaber kan den også bruges til udvendige fugesamlinger. Den er også velegnet, hvor der kræves pumpning over lang afstand.  
Pumpbar over lange afstande
Der kræves minimal forbehandling til de mest almindelige underlag
Opløsningsmiddel- og isocyanatfri
Gode udfyldningende egenskaber
God ældnings‐ og vejrbestandighed
PRODUKTFORDELE
Pumpbar over lange afstande

Der kræves minimal forbehandling til de mest almindelige underlag

Opløsningsmiddel- og isocyanatfri

Gode udfyldningende egenskaber

God ældnings‐ og vejrbestandighed
Anvendelse
Sikaflex®-953 L30 er velegnet til limning af store komponenter, der udsættes for dynamiske belastninger, og hvor opnåelse af tidlig styrke kræves. Almindelige underlagsmaterialer: metaller, især aluminium (inklusive anodiserede komponenter), stål (inklusive fosfaterede, forkromede og galvaniserede komponenter), metalprimere og maling (2-komponentsystemer), keramiske materialer og plast. Spørg producenten om råd og afprøv materialet på den aktuelle overflade, før du bruger Sikaflex®-953 L30 på overflader med tilbøjelighed til revnedannelser. Dette produkt bør kun anvendes af erfarne, professionelle brugere. Der skal foretages afprøvninger på de aktuelle overflader og under de  aktuelle forhold for at sikre vedhæftning og materialets egnethed.  
Emballage
Sikaflex®-953 L30
Mikser: MFHX 13-18T fra medmix
Sikaflex®-953 L30 (A)
Sikaflex®-905 (B)
Kontakt venligst kundeservice for oplysning om, hvilke emballagestørrelser der forhandles i Danmark.
Produktdetaljer
Typiske produktdata
Egenskaber

| | |
| --- | --- |
| Sikaflex®-953 L30 A | Sikaflex®-905 B |

Kemisk base

2-komponent silantermineret polymer (STP)

Farve (CQP001-1)
Densitet

  

blandet

1,41 kg/l

1,20 kg/l

1,39 kg/l

Blandingsforhold

A:B efter volumen

A:B efter vægt

10 : 1

11,7 : 1

Non-sag egenskaber (CQP061-1)

Rimelig

Påføringstemperatur

5 ─ 40 °C

Skinddannelsestid (CQP019-1)

40 minutter A

Åbentid (CQP526-1)

30 minutter A

Hærdehastighed (CQP046-1)

(se tabel) A

Svind (CQP014-1)

2 %

Shore A hårdhed (CQP023-1 / ISO 48-4)

50

Brudstyrke (CQP036-1 / ISO 527)

2,5 MPa

Brudforlængelse (CQP036-1 / ISO 37)

450 %

Rivstyrke (CQP045-1 / ISO 34)

15 N/mm

Forskydningsstyrke (CQP046-1 / ISO 4587)

1,5 MPa

Temperaturbelastning (CQP513-1)

1 time

160 °C

Anvendelsestemperatur (CQP509-1 / CQP513-1)

-45 ─ 90 °C

Holdbarhed (CQP016-1)

9 måneder B

Blander

Statomix® MS 13-18-G
CQP = Corporate Quality Procedure (virksomhedernes kvalitetsprocedure)    A) 23 °C / 50 % RF    B) Opbevares mellem 5 og 25 °C, B-komponent er frostfølsom.
Teknisk information
HÆRDEMEKANISME
Hærdningen af Sikaflex®-953 L30 finder sted ved en kemisk reaktion af de to komponenter.
| | |
| --- | --- |
| Tid [t] | Styrke [MPa] |
| 2 | 0,2 |
| 4 | 0,6 |
| 6 | 0,8 |
Tabel 1: Forskydningsstyrke (CQP 046-1) ved 23°C / 50% RF.
KEMISK MODSTANDSDYGTIGHED
Sikaflex®-953 L30 er generelt modstandsdygtig over for ferskvand, saltvand, vandbaserede syrer og vandbaserede  kaustiske opløsninger; kortvarigt modstandsdygtig over for brændstoffer, mineralske olier, vegetabilske og animalske fedtstoffer og olier; ikke modstandsdygtig over for organiske  syrer, glykol, koncentrerede mineralske syrer og kaustiske opløsninger eller opløsningsmidler.
Påføring
Påføringsinformation
Forberedelse af overfladen
Overfladerne skal være rene, tørre og fri for fedt, olie, støv og anden forurening. Overfladebehandlingen afhænger af overfladernes specifikke karakter og er afgørende for en langvarig vedhæftning. Alle forbehandlingstrin skal kontrolleres ved forudgående test på de aktuelle underlag under hensyntagen til de specifikke forhold i monteringsprocessen.
Påføring
Sikaflex®-953 L30 skal blandes fra patron eller med et passende doseringssystem. Blandingsforholdet skal respekteres. For dispenseringsanlæg er blandetypen angivet i Typisk Produktdatatabel, hvorimod det for patroner er angivet under Emballageinformation.
Sikaflex®-953 L30 kan anvendes ved temperaturer mellem 5°C og 40°C, men ændringer i reaktivitet og anvendelsesegenskaber må påregnes. Den optimale temperatur for overflade og produkt er mellem 15°C og 25°C.
For at sikre en ensartet tykkelse af limen anbefales det at påføre limen i form af en trekantet (se figur 1).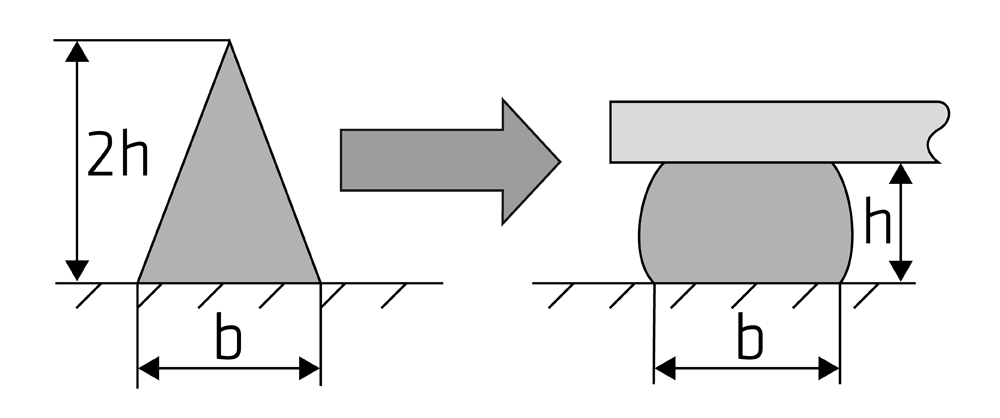 Figur 1: Anbefalet trekantskonfiguration
Åbningstiden er væsentligt kortere i varmt og fugtigt klima. Delene skal altid samles inden for åbentiden. Som en tommelfingerregel reducerer en ændring på + 10 °C åbningstiden med det halve.
For råd om valg og opsætning af et passende pumpesystem, kontakt SikaTekniske afdeling.
Bearbejdning og finish
Glitning og færdigbearbejdning skal udføres i limens åbentid. Vi anbefaler anvendelse af Sika® Tooling  Agent N. Andre glittemidler skal afprøves inden brug for at fastslå produktets egnethed.
Rengøring
Uhærdet Sikaflex®-953 L30 kan fjernes fra værktøj og udstyr med Sika® Remover-208 eller et andet egnet opløsningsmiddel. Hærdet materiale kan kun fjernes mekanisk. Hænder og udsatte  hudområder rengøres straks med Sika® Cleaner-350H rengøringsservietter eller et egnet  industrielt håndrensemiddel og  vand. Brug ikke opløsningsmidler på huden!
Overmalbarhed
Sikaflex®-953 L30 overmales bedst før skinddannelse. Hvis overmaling finder sted, efter at fugemassen har dannet skind, kan vedhæftningen forbedres ved at behandle fugens overflade med Sika® Aktivator-100 eller Sika® Aktivator-205 inden. Hvis malingen kræver en bageproces (> 80°C), opnås den bedste resultat ved først at lade fugemassen gennemhærde. Alle malinger skal testes ved at gennemføre forudgående afprøvning under anvendelsesforholdene. Malingers elasticitet er normalt ringere end fugemassers. Dette kan føre til revnedannelse af malingen i fugeområdet.