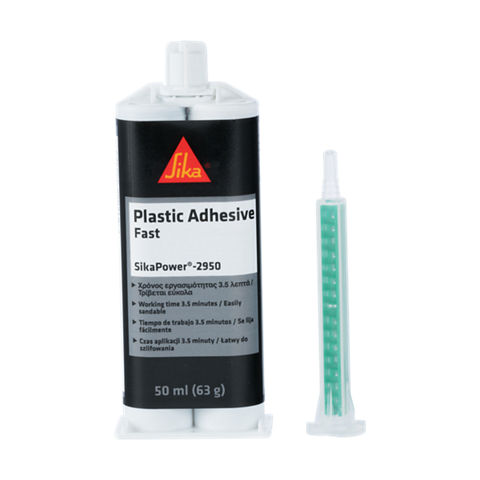 Hurtighærdende plastklæber
SikaPower®-2950 er en 2-komponent polyurethan klæber med fremragende vedhæftningsegenskaber. Den er specielt designet til plastik reparationer såsom kofangere og andre plastik dele.  
God vedhæftning til en bred vifte af overflader i eftermarket.
Hurtig hærdende.
Ingen løben eller dryppen.
Accelereret hærdning ved varmepåvirkning.
Glimrende slibbarhed.
PRODUKTFORDELE
God vedhæftning til en bred vifte af overflader i eftermarket.
Hurtig hærdende.
Ingen løben eller dryppen.
Accelereret hærdning ved varmepåvirkning.
Glimrende slibbarhed.
Anvendelse
SikaPower®-2950 kan anvendes til plastik reparationer såsom lapning, klæbning af klips og genopbygning. Produktet bør kun anvendes af professionelle, erfarne brugere. Test med faktiske underlag og betingelser skal udføres for at sikre vedhæftning og materialekompatibilitet.  
Emballage
Dobbeltpatron

50 ml

Mikser: Sika Mixer Quadro 83 mm
Produktdetaljer
Typiske produktdata
Egenskaber

| | |
| --- | --- |
| SikaPower®-2950 (A) | SikaPower®-2950 (B) |

Kemisk base
Farve (CQP001-1)
Densitet
Blandingsforhold

A:B efter volumen

1 : 1

Non-sag egenskab

God

Påføringstemperatur

10 ─ 30 °C

Bearbejdningstid

3.5 minutter A

Åbentid i blanderør

1.5 minutter A

Slibetid

30 minutter A

Shore D hårdhed (ASTM D-2240)

69

Brudstyrke (ISO 527)

26 MPa

Brudforlængelse (ISO 527)

65 %

Holdbarhed

24 måneder B
| | | |
| --- | --- | --- |
| CQP = Corporate Quality Procedure | A) 23 °C / 50 % r.f. | B) opbevaret ved 5 – 25 °C |
Teknisk information
HÆRDEMEKANISME
Hærdningen af SikaPower®-2950 sker ved en kemisk reaktion mellem de to komponenter.
Den hærder ved omgivelsernes temperatur. Hærdehastigheden kan accelereres ved at øge temperaturen (max. op tll 60 °C) ved hjælp af infrarøde lamper eller ovne, f.eks. vil 10 °C højere temperatur cirka fordoble hærdehastigheden og halvere åbentiden.
Påføring
Påføringsinformation
Forberedelse af overfladen
Slib overfladen med sandpapir kornstørrelse 80 – 180. Afrens og affedt overfladen før påføring af SikaPower®-2900 Primer. Yderligere forberedelse af overfladen afhænger af underlagstypen.
Påføring
Detaljeret arbejdvejledning for plastikreparation kan findes i Plastreparationsguiden.
Informationerne nedenfor er kun som general information. Råd vedrørende specifikke applikationer kan gives ved henvendelse.
SikaPower®-2950 kan påføres ved temperaturer mellem 10 °C og 30 °C (produkt, omgivelser og underlag).
Pres først limen ud uden mixeren for at sikre ens niveauer af komponenterne, montér mixeren og pres igen. Kassér de første få cm limstreng.
Påfør SikaPower®-2950 med en passende pistol. For at opnå en acceptabel blanding anvend de medfølgende mikserrør til SikaPower®-2900 serien, som er en del af pakningen, og som også sælges separat.
Efter dispensering skal du lade mixeren sidde på patronen, indtil klæbemidlet er brugt igen. Resten af klæbemidlet vil have en holdbarhed på flere uger, hvis det opbevares korrekt.
Når du skal bruge SikaPower®-2950 igen, skal du fjerne den statiske mikser og forsigtigt rense patronens udløb. Tilslut derefter en ny mikser og start udtømningen som beskrevet ovenfor.
Sika Contouring og Reinforcement-film er tilgængelige til genskabsnings- og modelleringsopgaver.
Rengøring
Uhærdet SikaPower®-2950 kan fjernes fra værktøj og udstyr med Sika® Remover-208 eller andre passende opløsningsmidler. Hærdet produkt kan kun fjernes mekanisk.
Hænder og udsatte hudområder rengøres straks med Sika® Cleaner-350H eller et egnet industrielt håndrensemiddel og vand.
Brug ikke opløsningsmidler på huden.
OPBEVARINGSBETINGELSER
SikaPower®-2950 skal opbevares mellem 5 °C og 25 °C på et tørt sted. Udsæt den ikke for direkte sollys eller frost.